The famous classic movie, Willie Wonka And The Chocolate Factory inspired the birth of Jewelry Candles! They love the movie and thought it would be awesome if they could have their own Willie Wonka type of concept, but instead of using candy bars and golden tickets they decided to use all natural soy candles and beautiful pieces of jewelry! Remember in the movie how there were only five golden tickets won by five lucky children? Well with Jewelry Candles everyone is a winner! Inside of each candle there is a hidden jewel that could be worth anywhere from $10 to $7500! There could be a ring, necklace, pendant, bracelet or pair of earrings in your candle! You never know what you are going to get, but you will always get a gorgeous piece of jewelry!
*NEW* Jewelry Tarts!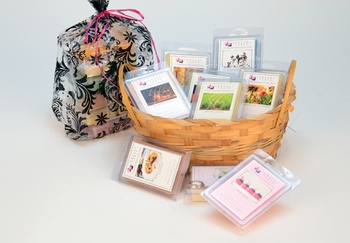 Jewelry Tarts are offered in two ways, you may purchase them by the clam shell with out a jewel or by the bag, which contains six clam shells as well as a hidden jewel in each bag! If you purchase a bag of Jewelry Tarts you will be able to choose your 6 different scents you would like, mix and match for a nice variety!
Jewelry Tarts are offered in 17 scents. The current scents for Jewelry Tarts are, Blueberry Muffin, Banana Cream Pie, Watermelon Kiwi, Pumpkin Spice, Butterfly Flowers, Chocolate Chip Cookies, Baked Apple Pie, Gardenia, Think Pink, Pink Love, Lemongrass, Mother's Love, Fresh Cut Flowers, Lilac, French Vanilla and I Love My Pet.
Connect with Jewelry Candles
One lucky winner will be able to choose their 6 scents for a Jewelry Tart bag! Giveaway is open to US residents who are 18+ years old. Simply enter through the Rafflecopter Form below for your chance to win!
a Rafflecopter giveaway
Disclosure: Mami's 3 Little Monkeys received no compensation for this post. YOUR BLOG NAME is not responsible for the prize fulfillment/shipping of this giveaway. If you have any questions please contact Sarh at mamis3littlemonkeys@yahoo.com .