Disclosure: I received the below products in exchange for my honest review. All opinions and experiences are my own and may differ from those of your own. 

About Eluanda
Eluanda's is a WAHM owned shop, run by Eva who has been sewing for many years. Eva has even sewn prom and wedding dresses! Eva's children are all skinny and tall making it hard to find pants that fit and stay at their waists. She has experienced the difficulty of finding the adjustable elastic waist bands in pants for older children, so she created her Elu Clips. 
Eluanda's came to life when a friend of Eva's started a photography business. Eva asked her friend if she would like for her to embroider her a business shirt, Eva made her ten shirts and that was her first customer. Before this she always sewed for her children and herself. Her friend insisted that she open her shop to share her talent with all of us. 
Kids Elastic Snap Belts - Elu Clips
Elu Clip ($9.95ARV) is a multi size adjustable 1-inch baby, toddler or kids belt that securely clips to the front loops of your child's pants. Elu Clips have plastic snaps and easily adjusts for multiple sizes on each belt. They are a colorful and bright new elastic belt idea for children.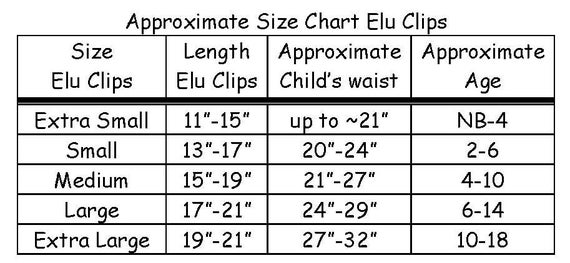 Elu Clips come in five different sizes, including extra small for newborn through size 4. I know I could have definitely used an Elu Clip for my kiddos pants, especially once we started to cloth diaper and they needed a larger size pants to fit over the bulk, but then the waist was too large, Elu Clips would have made a world of a difference. 
When purchasing your Elu Clips, you'll have a choice between 17 different snaps, 12 of which are round and 5 are heart shaped, or you can even choose multiple colors. As for the belts, you can choose from over 20 adorable prints or solid colors. You can view Eluanda Belt Selection here. You can also view more photos in Eva's photo gallery here.