Disclosure: I received this diaper cover and wipes in exchange for our honest review. All opinions and experiences are our own and may differ from those of your own.
KayCircus is owned by Erin who is a stay at home mom of two beautiful girls. KayCircus began because Erin had a hard time finding clothing in stores that would fit her daughter properly. Her older daughter is tall and slim, as many of us know, clothing usually is not made for those on the slimmer side. So Erin decided to make clothes herself from scratch and her girls of course loved the beautiful creations mom created for them. She opened her Etsy shop
KayCircus
because when she would be out and about with her girls people would comment on their adorable clothing and such and ask where Erin got the items from. She'd tell them that she made the items and these passer byers would tell Erin that she should start selling her beautiful creations.
One Size Cloth Diaper Cover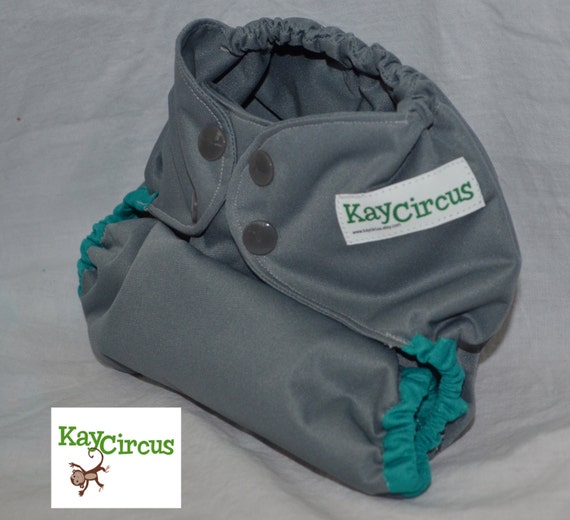 We received this cute One Size Cloth Diaper Cover from KayCircus. One Size (OS) meaning it will fit babies and toddlers from approximately 8 to 35 pounds. This cover has a pocket or flap in the front and the back which will help hold either a
KayCircus soaker
, your prefolds or flats as well. These pockets/flaps also give an extra layer of protection against tummy or back waist leaks during nap or tummy time. The cover is make of PUL so that you have a nice waterproof cover to keep baby and mom's leg dry. Since this cover is OS, there are four rows of rise snap settings to adjust as baby gets older/bigger. Contracting leg casing?? YES! I LOVE the contracting leg casings!
Construction/Craftsmanship
Sorry my pictures below are pretty bad... but they serve their purpose of showing the many tummy panel snaps for the wings allowing a great fit for all babies and toddlers. Also, you can see that the snaps are backed with PUL to prevent them from pulling through as they may with just a single layer of PUL. The leg elastics are not overly tight, but tight enough to keep messes IN. I also love the length of the back elastic, which helps give the waist a better stretch to fit around the adorably chubby babies. The stitching on the contrasting leg PUL is a bit wonky, but this cover is from one of Erin's first batches. If you visit her Etsy shop or Facebook page, you can definitely notice in her current stock that the stitching has become very beautiful! I definitely wouldn't hold this against KayCircus at all. I would definitely do business with her.
We use our
KayCircus OS Cover
over fitted diapers, I've never been good at pinning prefolds, so those are just used as doublers in other diapers. With this cover, I could definitely use prefolds. You can trifold your prefold and lay it into the cover, tucking the ends into the pockets. The pockets will help hold the prefold into place.
NO LEAKS!
Ezio is 2.5 years old and about 30 pounds. He is just around 3 ft tall so he's not quite as chubby anymore and is slimming out for now. In the above photos we use KayCircus cover over our Wonderful Bambino fitted. If Ezio would have been cooperating and not kicking me while I wrestled the cover on him, I probably could have gotten the cover to look nicer and also to cover the top of the fitted where it is slightly exposed. The fitted he is wearing under the cover is NOT a hybrid, so with out a cover he'd soak through the wet zone after just one pee. I was very please when we used our KayCircus cover over the fitted as he was able to wear the diaper for 2 hours instead of the usual 10-30 minutes. The fitted diaper was soaked, but the KayCircus cover was dry! This cover kept his pants, shirt and my lap dry. I am very pleased with this diaper cover!
FIT!
This cover fits Ezio very well! He has some chub around his waist and his thighs, I can put the cover on nice and snug and he has no complaints of discomfort from the cover nor does he have deep red lines or even any red marks from the covers. The bum on this cover is nice and wide. We're able to use it over our hybrid fitted diapers as well. The waist snaps are on the second to last settings, but with Ezio it really depends on if he's just eaten, if he's going through a growth spurt and eating a ton, or what not. Some days we'll be a few more settings in ward, other days we may even be on the last snap settings. If we used this cover with a prefold or flat I'm sure we would be more in the middle of the diaper's tummy panel rather then towards the edges. Also, don't forget, Ezio is 2.5years old and will be potty learning soon.
KayCircus Cotton Velour Wash Cloths/Cloth Wipes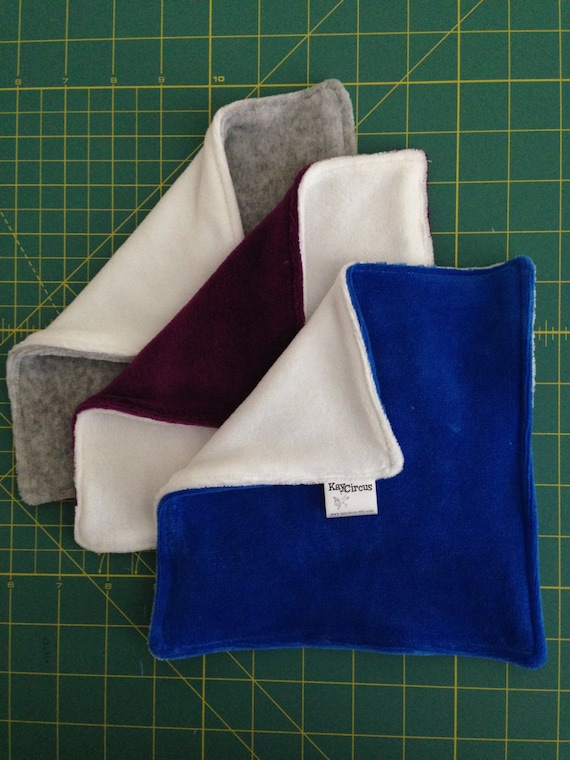 KayCircus
Cotton Velour Wash Cloths
are double sided super buttery soft cotton velour. They are 8 inches by 8 inches, which is my favorite wash cloth/cloth wipe size!
We also received two ubber soft cotton velour wash cloths/cloth wipes. They are so very nice to wipe baby up from head to toe in the bath, as a rag if it's not bath night and also to use as cloth wipes and clean up those messes. When we received our package, Ezio grabbed a wipe and rubbed it on his face. He carried it around for the day and he has never done this with any of our other cloth wipes or wash cloths.
Overall thoughts
I am very pleased with the function and fit of this diaper cover. I know as Ezio grows older and bigger that all diapers will not cross the tummy panel fully. Aside from cloth diaper covers, KayCircus also offers pocket diapers, wet bags and wipes as well as soakers, blankets and even children's clothing. KayCircus children's clothing is adorable as well as the rest of her products! Be sure to check them out!
Connect with KayCircus
What is your favorite print from KayCircus? Which diaper would you like to try?