Disclosure: This post contains affiliate links meaning I will be compensated if you make a purchase after clicking my link.
Head Back to School with Gymboree!
Gymboree celebrates childhood and creates quality clothes and accessories that are the fabric of childhood. They inspire moms with their cute, colorful, coordinated collections. In Gymboree, kids shine bright and families look great together, for family moments, for special occasions, and for the special occasion that is every day of childhood.
I have a 9 year old daughter who is now too big to wear Gymboree clothing although she has always loved their clothing. She greatly enjoys helping me pick out outfits from Gymboree for her younger brother, ages 5 and 3 years old. Currently she is out of state with her great grandma so lets see how I do on my own. I know she'll come back and nit pic my selections.
My 5 year old is entering K5 this year and sadly my 3 year old will not turn four until after the school year starts so it's another year of him and I at home together. My 5 year old is big into dinosaurs, zombies, cars, etc. Lets see if I can find him some back to school outfits from Gymboree that he'd love.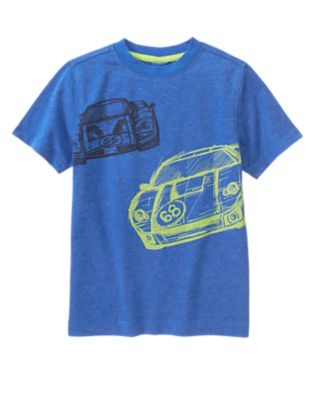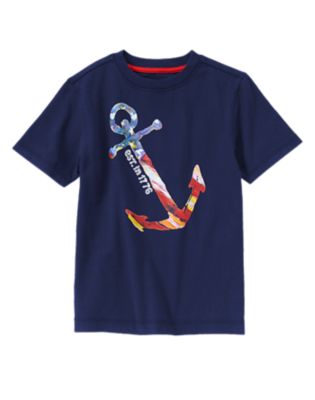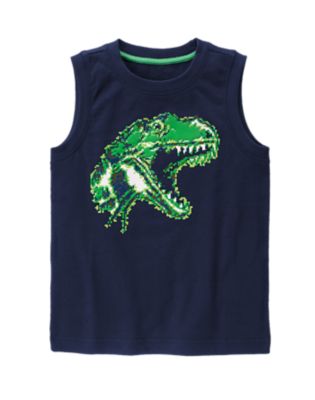 Here are a few tees and a tank that I know he'd love. I found one dinosaur top - the Pixel T-Rex Tank, which I know he'd love and he would really like the Heathered Race Car Tee (top left), it helps that both of the tops he'd really like also include his favorite color green. My favorite out of the graphic tees at Gymboree are the Anchor Tee and the Later Gator Tee, the Later Gator is just cute and funny and our family often says "later gator" so it's fitting. The Anchor tee, I especially love, there is a large military background in our family, both mine and dad's side. Plus, dad was in the Navy so the Anchor and the American flag all work together great for us.
Now it's time to find some bottoms! Lets go see what Gymboree has to offer and see what I can find to coordinate well with these tops. I personally really like plaid and patchwork shorts that coordinate or darker olive green shorts and cargo shorts in either of those two options is a huge plus for me!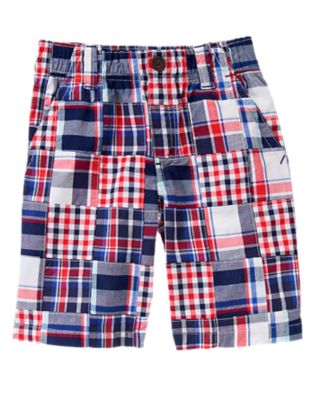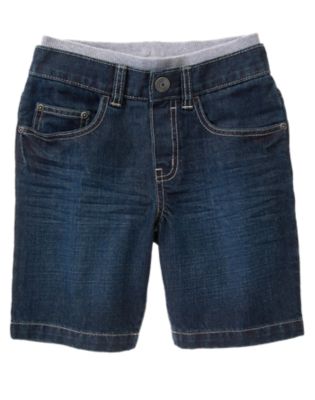 Okay, so I have a bit of a hard time picking out and matching shorts to tops online. Everyones screens display slightly different colors. However, I would like to pair the Race Tee with the Black Twill Shorts for sure and maybe even just have a few extra pairs of Black Twill Shorts as they will be easy to pair with other tops as well. I love the red, white and blue Patchwork Shorts to go with the Anchor Tee. The Anchor Tee is pretty tame so the busy shorts I feel would work well with it. I'm not 100% set on the green and blue Plaid Shorts for the T-Rex Tank, but I think it would work. I've always paired outfits for the top to be lighter than the bottoms. And lastly a nice pair of Double Waist Denim Shorts, these will give a nice comfortable fit and wear and would be great for gym day when more movement will be happening.
If I recall correctly, everything I have picked out is under $9.99/ea! Cade's not like a girl who has to show off her new clothes, but he does greatly enjoy getting new clothes for back to school, his birthday, Christmas, etc. Gymboree clothing is one of my favorite for the kiddos. It holds up well, is totally cute for both boys and girls and while the regular prices are fairly expensive they always have great deals, sales and lets not forget about those Gymbucks!
Head over to Gymboree for your Back to School Shopping! Currently everything (excluding shoes and outerwear) is $16.99 and UNDER!