Disclosure: I received these products in exchange for my honest review. All opinions and experiences are my own and may differ from those of your own.
Finnegan's Footprint
Finnegan's Footprint is an online eco-friendly family boutique that is committed to bringing your family the highest quality natural products. Finnegan's Footprint is currently an online shop only, but they are looking to open a brick and mortar store in the San Antonion area. You can also find them at local craft fairs and such.
Finnegan's Footprint carries a wide variety of products from clothing and home cleaning product to bath and body products and of course cloth diapers. You can find these products at Finnegan's Footprint; Piccalilly, Grandma El's, Babytime by Episencial, Begin Again Toys, eco-kids, Hip Peas, Eco Nuts, Diaper Dogs, Dive Cups, Luna Pads, Sweet Pea Diapers and so much more!
These are products that the momma who owns Finnegan's Footprint, personally uses with her own children and she is very passionate about them all.
What We Received for Review
Sweet Pea OS AIO Pocket Diaper
Sweet Pea is a Canadian company and they refer to this diaper as an all in one, which can be confusing to us American's. This is a pocket diaper. Being a one size diaper, this will fit from approximately birth through potty training or roughly from 8 pounds through 35 pounds. As you can see in the photo above there are two rows of rise snaps to help make this one diaper fit from birth to potty training. The outer of the diaper is a waterproof barrier to keep wetness inside and it is lined with a soft micro fleece for a gently touch to baby's skin and it pulls moisture away for their skin to help prevent diaper rashes.
The diaper has openings at the front and back for easy stuffing, adjusting of the inserts and this also allows the inserts to agitate out while in the wash. I personally still take them out for washing, but I know many other who do not. Also if you line dry your diapers there is a tag in the back of the pocket that would make line drying a breeze. All Swe

e

t Pea OS Pocket Diapers come with two microfiber inserts, one small/newborn and one large. You can use just the small insert for newborns or both inserts for older babies and toddlers.
This is our first Sweet Pea diaper and I was immediately pleased with the quality and professional stitching of the diaper. The elastics are nice and tight and stretchy, they are also even. All of the snaps are secure and backed with a second layer of PUL to prevent them from pulling through. I love the generous pockets! I don't have dainty little girl hands and some pocket diapers are really hard for me to stuff. I had no issues with stuffing these so I'd say that gives them a plus on the daddy friendly side.
The inserts are made of microfiber, but seriously, they are so absorbent! You probably wont believe me, so you'll have to try them for yourself and see! Ezio is 3 years old and about 33lbs, he is an average wetter. The majority of the time that he wears this diaper, we do use both inserts, I often have to change him before he's completely wet both inserts. During the day we've gone up to 4 hours, but only because that is the absolute maximum amount of time that I'll leave him in one diaper. He probably could have gone at least another two hours. Last night we used this diaper as a night time diaper for the first time since receiving it and oh my, I was so blown away!! He slept a full 12 hours and when he woke up, he was not damp by his legs and the inserts were only wet half ways back! So awesome and very exciting to not have to change his sheets.
The fit has been great! It fits snugly around his legs, but not too tight. He also has so much room to grow in the belly. The rise of the diaper is also a perfect fit and definitely long enough for him to continue wearing for quite some time yet, hopefully he'll be potty trained by then though.
Pail Liner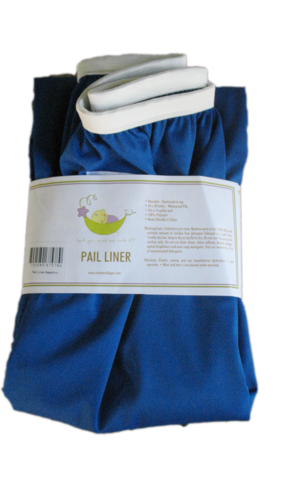 The Sweet Pea Pail Liner is a waterproof lining with an elastic top to secure it in your diaper pail. We use a kitchen garbage can for our pail. This pail liner can fit in a 14 gallon kitchen garbage can, it measures 24 X 28". Pail liners are great. Just toss your dirty diapers in the pail and come wash day, simply dump the diapers into the washer and toss the pail liner right in the washer with the diapers.
This will save you time with no longer having to wash out the stinky pail. I do still recommend to sprinkle some baking soda or an essential oil in the pail and/or pail liner, especially if you wash every 2-3 days. I always make sure to do this during the hot summer, we do have central air and keep the house cool, but I like to prevent strong stinks and flies. You can get Sweet Pea pail liners to match your Sweet Pea diapers or just pick the color or print that you like the most.
BALM! Baby - SPRAY That BOTTOM!
I am so happy that Taeylor (the momma behind Finnegan's Footprint) introduced me to this absolutely amazing spray! I am at least half ways through this bottle already. We seriously use it for just about everything topical and it works amazingly!
BALM! Baby offers eco-friendly and vegan baby products. This bottom spray is made of a strong infusion of the earth's most healing herbs into Hawaii's most healing oils. This is BALM! Baby's convenient spray and is one of their best selling 100% natural and organic diaper balms and first aids. It is made in Hawaii. You can use this spray for just about everything, including, but not limited to, eczema, diaper rash, bug bites, scrapes, sores from runny noses, razor burn, dry lips, sunburn (but please be sure to draw all heat out first with cool rags!) and more. It is CLOTH DIAPER SAFE!! It comes in a 4 oz. recycled aluminum bottle with a spritz top.
Some of my favorite pluses, aside from it being cloth diaper safe is that it is also vegan, GMO free and NUT FREE! As many of you know, Ezio is allergic to tree nuts as well as many other things.
Cade wear disposable pull-ups to bed as he refuses to wear a diaper, but I can't blame him. However, he gets a pretty nasty rash on his bum from them so we use this nightly and it cleared up his rash with in a few days to a week of continuous use. I also use this daily on Ezio who gets random eczema patches and also hives from his food allergies. It helps to relive the kiddos' bug bites as well which is awesome.
Witch Hazel (Alcohol FREE), Extra Virgin olive oil*, infused in noni, calendula, chamomille, comfrey & rosemary, St. John's wort extract, chickweed extract, neem oil vitamin e T-50, Organic Essential oil blend of orange, lavender & tea tree.
This is seriously our magic worker! I love it more than any other cream, ointment, etc. that I've ever tried! Plus, it's safe for Ezio to use, which is pretty hard to find things that are completely free of his allergens.
Connect with Finnegan's Footprint
What is your favorite product from Finnegan's Footprint? Have you tried the SPRAY That Bottom from BALM! Baby?