Disclosure: I received the below products in exchange for my honest review. All opinions and experiences are my own and may differ from those of your own.

About Eluandas
Eluandas' is a WAHM owned shop, run by Eva who has been sewing for many years. Eva has even sewn prom and wedding dresses! Eva's children are all skinny and tall making it hard to find pants that fit and stay at their waists. She has experienced the difficulty of finding the adjustable elastic waist bands in pants for older children, so she created her Elu Clips.
Eluandas' came to life when a friend of Eva's started a photography business. Eva asked her friend if she would like for her to embroider her a business shirt, Eva made her ten shirts and that was her first customer. Before this she always sewed for her children and herself. Her friend insisted that she open her shop to share her talent with all of us.
Kids Elastic Snap Belts - Elu Clips
Elu Clip ($9.95ARV) is a multi size adjustable 1-inch baby, toddler or kids belt that securely clips to the front loops of your child's pants. Elu Clips have plastic snaps and easily adjusts for multiple sizes on each belt. They are a colorful and bright new elastic belt idea for children.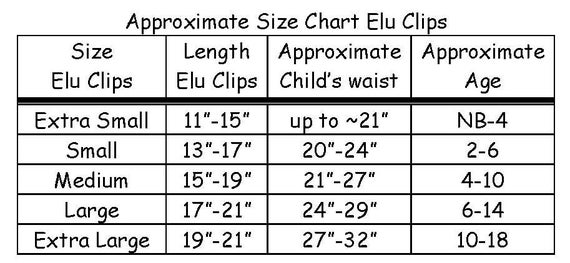 Elu Clips come in five different sizes, including extra small for newborn through size 4. I know I could have definitely used an Elu Clip for my kiddos pants, especially once we started to cloth diaper and they needed a larger size pants to fit over the bulk, but then the waist was too large, Elu Clips would have made a world of a difference.
When purchasing your Elu Clips, you'll have a choice between 17 different snaps, 12 of which are round and 5 are heart shaped, or you can even choose multiple colors. As for the belts, you can choose from over 20 adorable prints or solid colors. You can view Eluandas Belt Selection here. You can also view more photos in Eva's photo gallery here.
We received a size Extra Small for Ezio who is 3 years old and just went through a massive growth spurt from wearing 18-24m to 3t, his hasn't gained weight, still weighs in at 33lbs however, he shot straight up! However, his waist just seems to get skinnier and skinnier.
We also received a size Small Elu Clip for Cade. Cade is 44lbs (ish) and also skinny and tall. He's actually skinnier then Ezio. Cade wears a size 5/6 for the length, but the waists are always too big. Even with the attached adjustable waist on his jeans, some still fall down when he runs. Poor kiddo.
I absolutely LOVE our Elu Clips!!! Cade is in K4 and needs to be able to unbutton and button his pants on his own, I have not bought him a belt yet as I'm afraid he wont be able to get it unbuckled in time. So with the Elu Clips, I can send him to school with his pants fitting correctly and not falling when he runs AND have the confidence that he wont have an accident in school.
With Ezio, I love the Elu Clips because I don't have to unbuckle a belt while fighting with him and changing his diaper and then also have to buckle his belt again IF I can wrestle his pants back on to him. He's a handful to change and my goodness if he's in a pull-up or happens to be wearing big boy undies, there is no getting anything back on his bum.
These belts fit for both boys perfectly. I have them snapped to a mediocre setting, I could make them more snug or more loose if need be or if I noticed the boys were experiencing any discomfort. I greatly prefer these Elu Clips over the adjustable waist bands! You can adjust the Elu Clips super quick and easy, whether you're at home getting your child dressed, or you're out and about and noticed it needs to be adjusted.
Even if at the end of the day you forget to take the Elu Clip out of your child's pants you can wash it while still attached to their pants or if your child is similar to mine, they'll end up spilling something on it eventually. You can just wash it in your washing machine. The snaps are plastic and will not ruin your washer or dryer, whether you have an "old school" top loader washer or both of your machines are fancy new HE machines.
I really don't know how I've been a mom for 9 years now and have survived without an Elu Clip! When discussing with Eva the sizes I would need to review, for some reason getting one for Jedilynn did not cross my mind. I definitely need to purchase one for her. She's another one who's always complaining about her pants being too big/loose. She's only 9, but wears a size 14/16, mainly for the length. While she isn't as skinny as her brother's, for the length she needs the waist ends up being too big. I'll probably buy her a size Large.
BOGO Coupon Code!
BOGO Elu Clip! Use coupon code
ELUCLIPFREE at checkout. Valid via Eluandas website and Etsy shop.
Giveaway!
One lucky reader will win their very own Elu Clip! To enter, simply complete as many or as few entry options in the Giveaway Tools entry form below. This giveaway is open WW to those who are at least 18 years of age at the time of entrance. Ends on Sunday, March 15th at 11:59pm CST. Winner will be selected via random.org and notified via email, winner has 48 hours to respond or a new winner will be chosen. Winners entries will be verified, any entries claimed that were not completed will forfeit winner and a new winner will be chosen.