Fankenstitch Productions
was created by Steph Bills, a work at home mom, in 2004 and is based in Flint, MI. Steph started sewing in 2002, making Christmas presents with only $60 to her name so she took a trip to her local craft store and bought a ton of fabric and thread. She hasn't looked back since and continues to sew. She started out making a lot of different pouches with appliqué of monstas and all different animals. Once she mastered these pouches she decided to move onto plush creations which she calls monstas. Monstas are what Steph is known for and she has probably made about 6,000+ monstas! Steph also does a really neat thing! You can send her your child's art work and she will re-create it! Now, that takes talent.
Cyclops Cat Toy on a Rope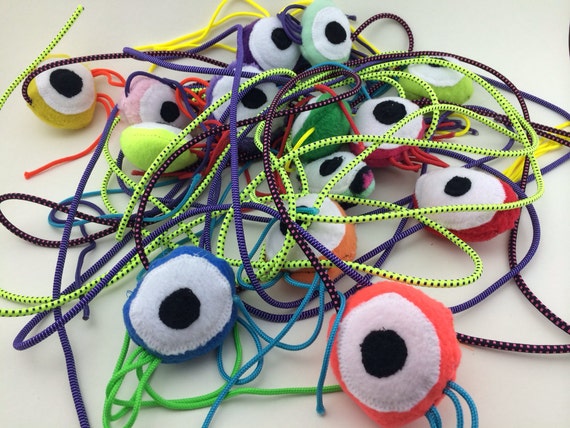 We received two of Frankenstitch Production's NEW
Cyclops cat toys
that are attached to a nice long rope ($5ARV). These Cyclops cat toys are stuffed with premium organic catnip along with a little bit of poly fill.
These Cyclops cat toys on a rope are PERFECT for the kids! With some of their other toys the kids can't really play with them other then tossing the toy and laughing while watching the kittens run and attack the toy. But with these awesome cat toys, the kids just hold onto the end of the rope and run through the house with one or both of the kittens following closely behind them batting at the toy and/or trying to catch it.
It's really cute watching the kids belly laugh as they run through the house playing with the kittens and these awesome new Cyclops toys. I love how they are the perfect toy for both the kittens and the kids, who knew?! Plus, these are filled with catnip and it is the kittens first catnip toys! They have not yet had just plain catnip, honestly, they are crazy enough with out straight cat nip!!
I have loosely tied the rope to the door knob so that the kittens can bat at the toys as well as to the leg of our folding table in the living room. We will hopefully be getting them a cat scratching post/tower soon and I plan on attaching one of these toys to the cat scratching post for some added and independent fun for the kittens.
As mentioned in the introduction of Frankenstitch Productions, they have many different products that are all hand made and awesome! Be sure to check out all of their products in their Etsy Shop!
Connect
Etsy Shop
Facebook
GIVEAWAY!
One lucky reader will win a $25 gift certificate to Frankenstitch Productions!
Open to US only, 18y+
Ends January 28th at 11:59pm CST
Winner's entries will be verified. Winner will have 48hrs to respond to email notification.
Good Luck!
Disclosure: I received the above products in exchange for my honest review, all opinions and experiences are 100% my own and may differ from those of your own. I hold no responsibility for the fulfillment or shipment of the above prize.