Disclosure: I received a shirt in exchange for my honest review, all opinions and experiences are my own and may differ from those of your own.
Heather Rogers Designs offers a full line of personalized items and is home to the Big Brother, Big Sister and Big Cousin Birthday T-shirts. Heather also offers fun designs on canvas backpacks, tumblers, dog shirts!, and so much more! She does not use iron-on or heat transfer designs on her products. The printing process in which Heather Rogers Designs goes through is a process in which the actual fibers with in the fabric are dyed. This process not only leaves a beautiful, bright and long lasting design on your item, but it also leaves the fabric feeling soft.
Awesome Moms Get Promoted To Grams! T-Shirt
I chose the Awesome Moms Get Promoted To (Insert your own name) T-shirt ($20ARV) for my mom. She is truly an amazing mother and has never failed in the promotion to Grams so I definitely had to choose this shirt for a fun prize for her when I was searching Heather Rogers Designs. With this t-shirt and many other products from Heather, you can personalize it with the name of the person whom the item will be for. Like if we got this shirt for Dan's mom, we could have personalized it with Nana instead of Grams. You can also customize your color options and some other small details on other products.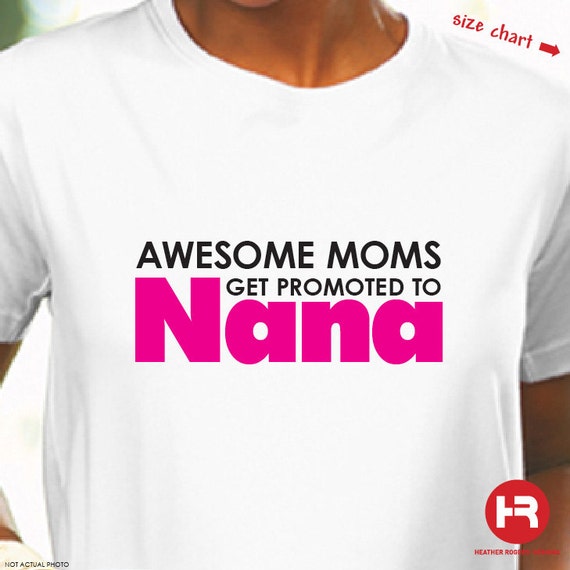 Here is an example of the shirt with Nana - Photo Belongs to HRD
The shirt is preshrunk and feels really soft! Heather offers her adult shirts in sizes Small all the way up to 3X so no loved ones will be left out! So awesome as I usually only see custom shirts in XLarge as the largest size offered. In our family we have some larger members an XLarge is even kind of snug on me depending on the brand of shirt the designer uses.
The design/image is centered very nicely on this shirt. I am quite the nit picker and I examined it very closely, short of measuring to make sure it was straight. After several washes so far the design is still perfect and looks exactly the same as it did the day it arrived. I absolutely love the dying of the fibers process instead of those iron-on and heat transfer images that major t-shirt manufacturers use on the majority of their shirts. Plus, for Heather's great price of $20 and the fact that your design will be "fresh" on your shirt for a LOT LONGER then those other shirts you buy in the stores for $30+, you are getting one heck of a deal.
My mom absolutely loves her shirt and would love to wear it as often as possible and I think if I give her the okay, she would make it a work shirt. She's a sub-contracter and the current time is re-glazing bathrooms, she always has resin and all sorts of paints and chemical type products on her clothing and skin. If she were to keep all of that off of the design, there is no doubt that this design would be able to hold up to her wearing it more often to work.
One of the reason my mom is an awesome mom is because I was a teen mom and became pregnant at 15 years old (that was 8 years ago already) and she stood by my side and me the great mother that I am today. She showed me the ropes and is always here to help guide me through new obstacles. She also spoils the heck out of my kids, which they love and so do I. This shirt was just a small token of our appreciation.
Be sure to connect with Heather Rogers Designs and check out all of her other awesome products! It was definitely a hard choice for me to choose only one item. The canvas backpacks would be awesome for any child starting school or even as a bag to take their belongings to daycare or for sleep overs, etc. The tumblers are great for adults and children alike, to take to school, on field trips or even to take to the office with no worries of someone taking your beverage. She has more products to offer as well.
Connect with Heather Rogers Designs
Giveaway!
One lucky reader will win any single item of $20 or less from Heather Rogers Designs.
Giveaway ends on August 18th at 11:59pm CST.
Open to US residents whom are at least 18 years old.
One winner will be chosen at random, winner's entries will be verified and winner will be notified via email. Winner will have 48 hours to respond or a new winner will be chosen. You may complete one entry, two entries, or all of them. It's your choice, the more you complete the better your odds of winning will be.
Giveaway Disclosure: I am not responsible for the fulfillment or shipment of the prize. Heather Rogers Designs will be directly shipping the item to the winner. I also do not guarantee any life span of the image printed on your item, the above is my personal opinions and experience.