Disclosure: I received PDF files of the below patterns in exchange for my honest review. All opinions and experiences are my own and may differ from those of your own.
Funky Friends Factory was created by Pauline. She started out making 'baby safe bunnies' for all of her friends' newborn babies. She made these bunnies with sewn on faces that didn't have chew-able, choking hazardous pieces. They were so popular that she moved on to mass-production which is where the 'factory' in her shop name came from. Pauline has done her best to make all of her patterns as easy as possible to sew so that the adorable little stuffed toys that you make with love from her patterns will be quick to sew up!
I received several amazingly awesome patterns from Pauline to try out and write up my review about.
Pauline sent me the following patterns: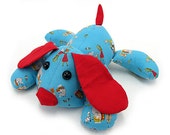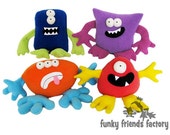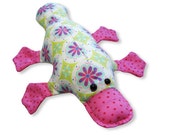 -Puppy Dog Pete
-Monster Mix & Match
-Plattie Platypus
-Ozzie Octopus
-Shelby the Sockless Sock Monkey
Are these not absolutely adorable? Pauline has TONS more adorable patterns!
Puppy Dog Pete!
The first thing I have made is the Puppy Dog Pete.
They are pretty straight forward and there are only 9 pieces, so not much cutting out. Personally I'd recommend tracing your pattern pieces onto your fabric with a washable marker and then cutting them out with scissors. I the majority of them out with my rotary cutter, but I will definitely need to reprint my pattern pieces as they got pretty banged up with all of the small curves and such. Or maybe I just stink at using a rotary cutter. Anyhow, the pattern for sewing Puppy Dog Pete together is quite easy to follow and she even provides the measurements for how much fabric you'll need for the 'Main' and 'Contrasting' fabrics as well as other supplies you'll need for making Pete. This pattern does not come with a picture tutorial, however, I know Pauline has this neat link at the bottom of her website with
tutorials
for how to do certain things within her patterns. I followed the step by step instructions for the pattern and I didn't really run into any major problems. Since this is the first stuffed toy/animal that I sewed I did run into a few areas where I really had to 'plan it out' in my head and hold pieces together to picture what I was about to do. Other then that, I'd say I was able to sew Puppy Dog Pete with out any issues other then my own sewing whoows. When completed Puppy Dog Pete will measure approximately 15 inches in length.
Before I show you a photo of my terrible poor poor puppy dog... I accidentally sewed his legs on backwards... or upside down... or something... Other then that he doesn't look half bad for my first, or at least I don't think so. I made Puppy Dog Pete for my son, Cade who likes puppies, but mostly just loves mommy making him new things. He absolutely loves his puppy and has added him to his very small collection of stuffed animals that he likes to sleep with.
Cade has named his puppy, Dexter. Dexter's nose is also a bit wonky, his eyes are slightly crooked and all of his seams do not line up. Despite all of this, when I shared these photos via my personal Facebook with friends and family they all loved Pete ... I mean Dexter.
Cade loves his puppy Dexter so much so that he chose Dexter to take with him when he under went his first major procedure. He had an EGD - endoscopy and wanted to take Dexter as his comfort item along with his security blanket, his 'Puppy B'. The nurses and doctors were great and to help comfort Cade, who has pretty severe anxiety just in everyday life, they also put a bracelet (medical band) on Dexter. In fact, we still have Dexter's bracelet and it is NOT allowed to come off or else Cade has a fit. I'm fine with it staying on. So with all of that said, I guess I really didn't do all too bad if this is what he chose to take with him for a comfort/security item.
As for the other patterns, I have an Ozzie Octopus cut out for Ezio. I cut him out of a pink, purple and yellow super fuzzy fleecey material. Ezio's favorite color is pink. I have sewn a few legs of that together, but I really needed to make the kids some summer clothes before sewing up a toy. I also have a few variations of the Monsters Mix & Match cut out of fleece and other random materials. Oh and I am going to make my mom a Shelby - Sockless Sock Monkey for Christmas and/or her Birthday (which is in January) with some scraps from the kids clothing, diapers, etc. She loves sock monkeys and she has recently requested a quilt made up of fabrics I've used to make this for the kids with. I hope she isn't reading this!
I will hopefully be able to sew these up soon! I will create another post with them sewn up once I get the chance.
I have really enjoyed using Pauline's
Funky Friends Factory
patterns and once I make a few of each of the patterns I currently have I would love to purchase many more of her patterns. You definitely have to check out Funky Friends Factory! So many adorable patterns!! I really do not think I could pick just ONE favorite pattern of Pauline's.
Connect with Funky Friends Factory!
Have you ever sewn a stuffed toy/animal?
Visit Funky Friends Factory at any of the above links and let me know which pattern you'd love to try! Also, who you make it for?