Holland Designs was created by Lisa who learned to sew at just 3 years old! How amazing is that? Lisa is originally from Wisconsin, hey that's where we live! She now lives with her husband and their three beautiful young girls in New Zealand, near Auckland. Holland Designs is named after their eldest daughter, Holland. Holland, Madison and Adelaide are all beautiful models for Holland Designs. Lisa's husband, Gilbert is fluent in Dutch and English, he is trying to teach his daughter Dutch as well, but they carry their mother's American accent. How cute! Lisa creates beautiful crochet patterns which what she sells in Holland Designs.
Ezio, my two year old has been showing an interest in trying to crochet and he mimic hand motions I make while crocheting... I might have to try giving him a crochet hook and see if I can teach him how to crochet. That would be so amazing!
Modern Toddler Loafers Pattern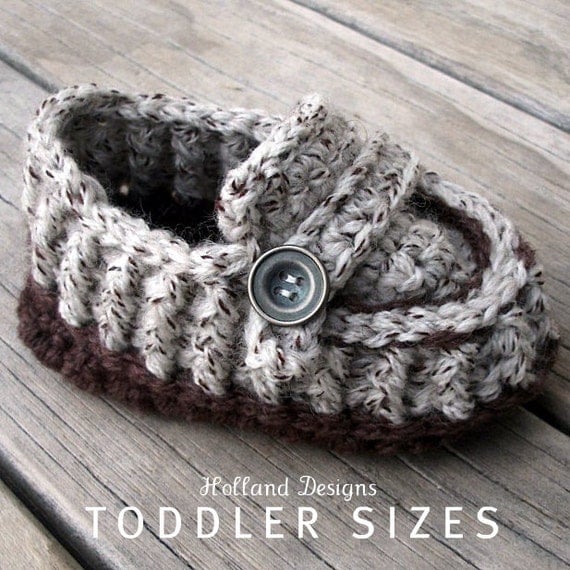 Photo Belongs To: Holland Designs
Modern Toddler Loafer pattern ($5.50ARV) is an Intermediate skill level pattern. It is available for purchase and immediate download at Holland Designs. This pattern is for toddler sizes and comes with the pattern for shoe sizes 4 through 8. They are worked with two colors of your choice of worsted weight yarn and an F size crochet hook is needed as well as two buttons, sewing needle and thread. Although Lisa and her family are in New Zealand this pattern is written in American terms.
I'm pretty sure I'd rate my crocheting skill level at about Intermediate, not quite Advanced or Expert. The pattern was fairly easy to work up, but I'm not quite so fond of how my pair of shoes came out, which doesn't have anything to do with the pattern it's self, but how I crocheted them. The loafers didn't take too long to work up either.
The ones I made are not perfect, but they fit Ezio and he seems to like them! Plus, this was my first pair, I will be making at least one more pair of these and they should turn out much better not that I've worked it once before.
They FIT! That was pretty much my whole goal, to make a pair of crocheted booties/loafers for him that fit him. I've tried many of the free patterns available online and none of them have come even close to turning out for me! The sole for the Modern Toddler Loafer's pattern is much better then the many different variations I've found online for free as well. After I make a second pair of these for Ezio, if they turn out better, I will be trying my hand at expanding this pattern to a size 11 for Cade. I think I've figured it out for the most part in my head, but I still have to see if it will turn out correctly.
Thumbs up for this pattern!
Ice Princess Headwrap Pattern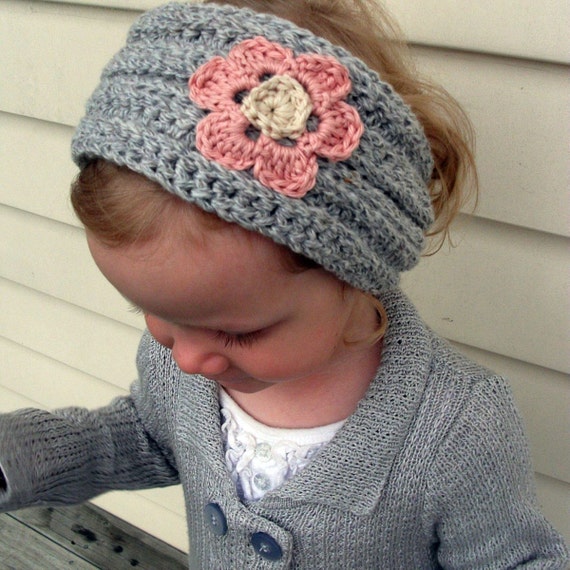 Photo Belongs To: Holland Designs
The Ice Princess Headwrap ($5.50ARV) crochet pattern is an easy to intermediate skill level and is also written in American terms. It is also available for immediate download and comes in all sizes. The way this headwrap is worked gives it a beautiful knit-look. One of the great and sort of fun things about this pattern is that you can use any type of yarn and any hook size! In Holland Designs headwrap above and mine below we both used two strands of DK weight yarn held together and I also used an I hook, same as Lisa did. Included in this pattern is a size chart for standard head circumferences so you can make this headwrap for any size and age.
Well here is my
Ice Princess Headwrap
... I know my picture or maybe the colors I used don't show the cinching of it like at all, but I promise it did cinch! My flower isn't the greatest, flowers are super easy to make, but I didn't stretch mine out nearly enough when I sewed it on. The pattern was super easy to work up, I'd probably rate the skill level at easy or beginner until your get to the back/finishing of the headwrap then it can get a little tricky. This is the first thing I've ever made with two strands of yarn being used, but it wasn't nearly as difficult as I had thought it would be.
I gave Jedilynn her headwrap I made her and I asked her to smile nice so I could take a picture for the review and above is the lovely "pose" I guess you could call it, that I got from my daughter. She is so silly and can be quite sassy. Yes, this is her being sassy because now I have a silly picture for my review instead of nice or more formal photo. I love her either way. She loves her headwrap and one of the boys got something on it so while she was impatiently awaiting it to be out of the wash she decided to ask me to make her another one. Silly girl, it will be done in like 20 more minutes! She ended up going to play with her brothers and before she even realized how much time went by it was done! When she wore this to school for about the first week she kept coming home telling me that several of her friends wanted headwraps too. I felt bad when I told her no, I just couldn't make and giveaway the amount that she wanted and I didn't want to put her in a sticky situation of choosing just two or three of her friends that she'd like to have given one to. Anyhow with using two strands of yarn you get a nice thick and very warm head wrap! I felt confident in sending Jedilynn to school with her headwrap to keep her ears warm in our super cold Wisconsin winters and this year it was probably the coldest I ever remember our winters being with all of the Arctic freezes and such that we've had.
Thumbs up for this pattern as well!
Ladies Knit-Look Sweater Boots Pattern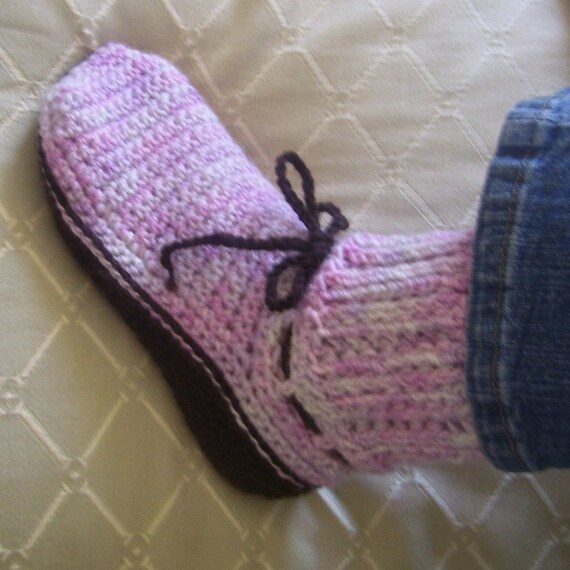 Photo Belongs To: Holland Designs
Ladies Knit-Look Sweater Boots ($5.50ARV) pattern is an easy to intermediate skill level. It is available for immediate download as well. This pattern comes with a USA womens shoe size chart so you can fully customize the length of the sole to get the perfect fit for your self! These sweater boots are stylish and trendy and will keep your feet warm and cozy. The cuff for these sweater boots has an awesome design that makes a knit-look which is stretchy and ribbed, you can make this too any length you wish and the ties around the ankles are for an added secure fit.
The ribbed knit-look cuff for these Sweater Boots had me nervous at first and I did redo the first few rounds a few times as it just didn't look right, but then I carried on and everything turned out great! I actually enjoyed working this ribbed knit-look cuff and it was quite a bit of fun too. I often tend to get bored with doing the same thing over and over again.
Here I have my ankle and my sole, you make the separately and then you crochet the ankle to the sole and continue working the sides of the toe as well as the top. They are pretty easy to make and a little time consuming, but I was so excited to have nice warm cozy feet!
OOPS!!! I REALLY did something wrong here! Not sure where I went wrong with these, but I do know it is my own error and not one with in the pattern, I had to of missed a round or two or three, which if you compare this picture to the picture of Lisa's boots you can see that I don't have the rows of pink under my purple ribbed knit-look ankle. And that is the part that was to tight and stopping my foot from going into the slipper. I am working a new pair of these now so hopefully this time around I pay closer attention to the pattern. My issue is that I get distracted by one of the kids and then when I look back at the pattern I end up skipping rows. Again, this issue is not due to the pattern, but user error.
Thumbs up for this one as well.
I love all three patterns I received from Holland Designs, now I just to correct my silly errors and I will update with much better looking crocheted items once I've had the chance to remake them all. Definitely pay attention to your pattern! Use a pen or highlighter and mark the row your on if you need to do so, then you wont lose your place as I do quite often.
Holland Designs has tons and tons of beautiful and stylish crochet patterns for the whole family. I've never seen products or patterns for many of the patterns available in Holland Designs before!
Connect
Holland Designs on Etsy
Raverly
Lisa van Klaveren's Blog
Facebook
Twitter
@HollandDesigns
Disclosure: I received the above patterns in exchange for my honest review. All opinions and experiences are 100% my own and may differ from those of your own. I did not receive any other form of compensation for this publication.