Everything from
Beyond the Seam
is handmade by Shaina and you can customize anything you'd like. She specializes in her fabulous fabric magnetic alphabet and math sets, but she has so much more to offer! Her products provide exploration adventures for your little one.

Magnetic Alphabet & Math Sets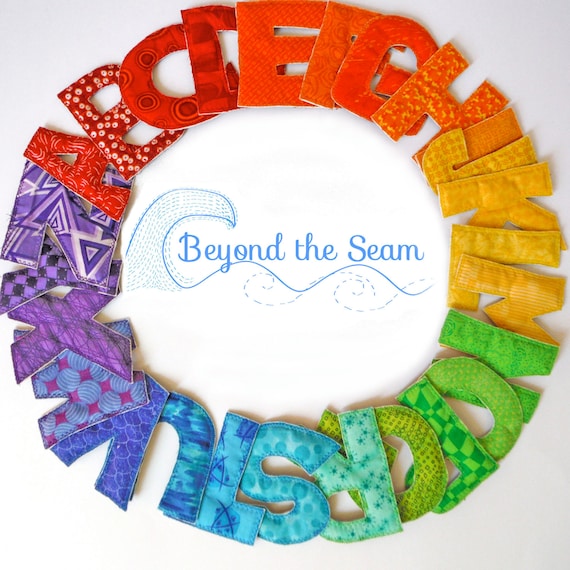 Photo Belongs to Beyond the Seam
We received a Rainbow Magnetic Fabric Alphabet Set in upper case letters($45ARV). The letters in these alphabet sets are 3.5" tall, made from cotton fabric of bright colors and patterns. They all have a magnet which is triple stitched inside of the cotton fabric making them safe for all children, even those with the littlest of mouths. This triple stitching also helps them hold up to years of wear and tear as well as many washes, Shania has had a set of her own letters for four years now and they have been through many washes. The rainbow set, which we received, contains the colors red, orange, yellow, green, blue and purple.
Whether your looking for something fun and brightly colored for your little one to play with while you cook dinner or whenever or your looking for something to help with a more educational aspect of play, these letters are perfect! They are perfect for letter recognition, language skills, color recognition and more! They are also a great gift for children who already have everything else you could possibly think of, since these letters are one of a kind.
From my own experience children of all ages love these fabulous fabric letters. Jedilynn is 8 years old, Cade is 3.5 years old and Ezio is 2 years old, all three of them love to play with the letters and even do so quite nicely together. They have also discovered that these magnetic letters not only "stick" to the fridge, but also the side of the oven... uh, oh... well, Jedilynn is very good at keeping her brothers safe and it seems that when she explains things to them they listen better then if myself or daddy were to try and tell them. Such as her telling them not to play with the letters on the stove as mommy could be making dinner and the over could be on and none of us want them to get burned and have owies. Jedilynn suffered from 2nd degree burns on her foot and ankle when she was 6 months old, while she has no memory of this, I have discussed it with her as I feel she should know her own history. Anyhow, back to the letters! I love when I'm cooking in the kitchen and the boys are playing with the letters on the fridge, Cade asks me about a million times what each letter is and tries to identify them himself as he places them on the fridge, he doesn't get them all correct, but he's working on it. These letters are the perfect way for him to practice his letters before starting school this fall. Boy, time sure does fly! Ezio doesn't have too many words in his vocabulary right now, but he copies his brother and brings letters to me and babbles, I know this is him trying to ask me what the letter is so I respond accordingly. He can be quite the pain in Cade's rear when they are both playing with the letters however as he likes to pull all of the magnets off of the fridge right after Cade has lined them all up on the fridge. Usually resulting in someone whining. I don't mind though, they are brothers whom are only 18 months apart and I'm sure they will be fighting for the rest of their lives! Ezio does like to chew on things still, these letters are one of his favorite things to chew on. We have had them for a few weeks now and they are holding up just fine!! I thought I may see some distress in the fabric, but I see none. I absolutely love that these are machine washable, with them being in the kitchen they can definitely get dirty quickly with food and beverage spills.
Marble Maze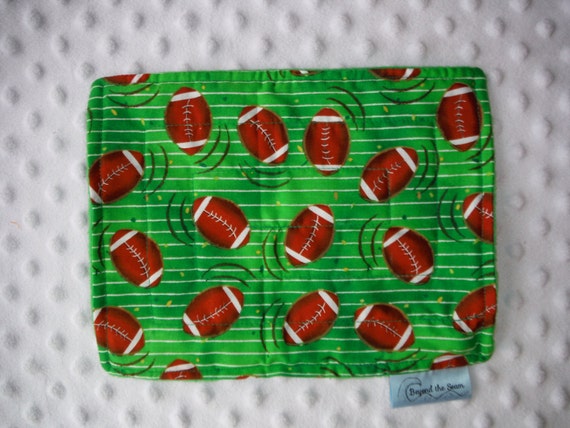 Photo Belongs to Beyond the Seam
We also received a Marble Maze ($10ARV), these are so fun and great for the car! The marble mazes measure 8.5" by 6.5", making them perfect for little hands and fingers. It is completely safe for children of all ages as the marble is completely encased, meaning it's even safe for little mouths. One side is a patterned cotton fabric, while the other side has a soft solid fleece. Marble mazes are the perfect, quiet, car ride game and challenge children while they are still having fun figuring out the different tractics or strategies for getting the marble from one side of the maze to the other.

No more crayons, pencils etc rolling around your vehicle from doing pen and paper mazes. Hey, you don't have to keep buying new ones from the previous ones being written on as these are fabric marble mazes and you just slide the marble through the path with your fingers. The marble slides easy enough for Ezio, my 2 year old to be able to move it. He put it to the test of durability and safety as he tried his mightiest to get the marble out. I'm sure he was just curious as to what that round thing was. We always keep our marble maze in the car so one of the three kids can play with it, I'm pretty sure I need to buy at least two more of these so they wont have to take turns and whine the entire time someone else has it. Can become quite annoying on longer car rides. But, we love our marble maze. I even play with it sometimes and I've seen daddy pushing the marble around inside of the maze as well.
This would be the perfect gift for pretty much anyone!
Discount Code
Use code 3LITTLEMONKEYS and receive FREE SHIPPING on your order from Beyond the Seam!
Connect
Disclosure: I received the above products in exchange for my honest review, our opinions and experiences may differ from those of your own.