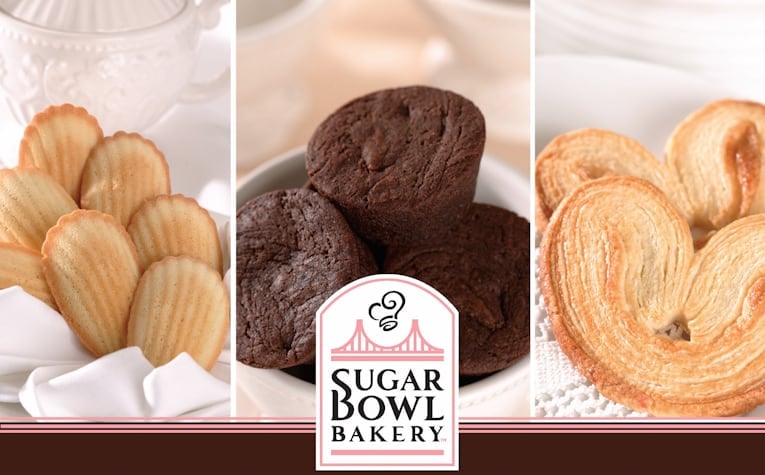 Disclosure: We received the below products in exchange for our honest review, all opinions and experiences are 100% our own and may differ from those of your own.
Sugar Bowl Bakery started out as a small neighborhood coffee shop in San Francisco. It was bought in 1984 by five brothers who put their savings together to purchase
Sugar Bowl Bakery
. The Ly brothers made pastries from scratch with only the finest ingredients and sold them to the local community. They quickly became the bakery that everyone wanted to stop into for their desserts. Now, 27 years later, Sugar Bowl Bakery has nearly 120K sq. ft of state of the art production facilities which means that they have custom made ovens, mixers and robotic packaging lines that have been sourced from all over the world. This allows Sugar Bowl Bakery to deliver high quality desserts at affordable prices to grocery stores and warehouse clubs.
Petite Brownie Bites & Madeleines
Petite Brownie Bites are little bite sized pieces of chocolate heaven. The brownie bites are the perfect combination or slightly hardened/crisp outside and soft fresh baked inside. I honestly did not expect to bit into these brownie bites and have a soft delicious inside. When making brownies at home it is hard to achieve this perfect combination. Personally, I'm not big on chocolate, but I was not let down by these brownie bites. They would be perfect with a nice tall glass of ice cold milk or I'd even enjoy them with a short mug of hot cocoa now that winter is approaching. Their bite size makes them perfect for the kids to have one or two and it be the best sized brownie treat for them. Cade, Ezio and Jada enjoyed one to two brownie bites after dinners and such.
He sure was loving the Petite Brownie Bites from Sugar Bowl Bakery! Surprisingly I was able to make our brownie bites last about a week. I never would have thunk it! Treats and snacks are gone so fast in this house, however I'd give the kids one or two each and Dan and I would only have one or two every now and then. Everyone sure was sad when these were all gone. Even my mom who also isn't big on chocolate enjoyed her brownie bite.
The Madeleines we unbelievably delicious. Personally, the Madeleines were better then the brownies. I pretty much kept them to myself, but thankfully the rest of the family were more into the brownies, fine by me! So I had never had a Madeleine before, I was a bit hesitant to try one as I figured they were another cookie that was just going crumble all over the place. Oh was I SO wrong about that!! They barely made any amount of crumby mess! Sorry, but I have a serious issue with crumbs. These Madeleines were so soft and buttery delicious, it was like nothing I remember ever trying before, but seemed to fill the "sweet tooth" hole in my heart. Don't get me wrong, they are not sweet, just soft and fluffy buttery goodness. However, I've never really been big on sweets or baked goods.
Madeleines sort of remind me of shortbread cookies. I always let shortbread cookies just "melt" in my mouth and these are like that, but with out having to wait for the cookie to soft because it already is.
Needless to say, I have been searching all of my local retailers of Sugar Bowl Bakery in hopes of not only being able to buy more of these delicious
baked goods
, but I also actually want to try out other goodies from Sugar Bowl Bakery. Check and see what the
nearest retailer
to you is.
Connect with Sugar Bowl Bakery
What would you like to try from Sugar Bowl Bakery? Have you ever tried their delicious products?