Buttercup & Jake is all-natural skin care products that were originally created for their own family needs for a safe, gentle and effective product to care for their children's eczema and dermatitis while also leaving a very minimal impact on the environment. All Buttercup & Jake products are made with organic, all-natural and non-toxic ingredients. The Calnedula flowers for their skin creams are grown on local and organic farms, also, their honey is produced in Hudson Valley, which is also local.
Cocoa Calendula Balm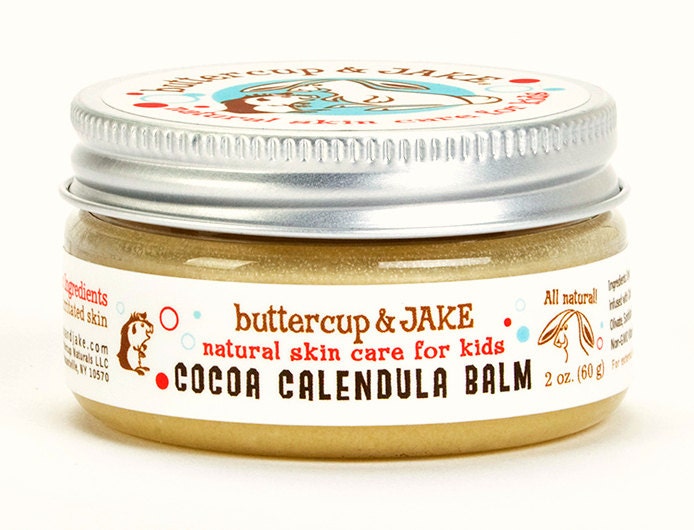 Photo belongs to: buttercup&Jake
Cocoa Calendula Balm comes in a 2 ounce tub ($12.50ARV) is made with golden Calendula flower oil which is 86% organic, preservative free and all-natural. It is extra gentle as it is only made with ingredients that are food-safe. View all ingredients here. You can use this balm to help soothe and protect dry or irritated skin, safe for use under a sore nose, on the bum as well has chapped hands from cold winter winds. It is also an item of use for expectant mothers whom like to rub the balm on their belly bumps. It has a nice chocolaty fragrance from organic cocoa butter and organic vanilla beans.
I use this on Cade's bum, he often has a rash on his inner and upper thighs from PUL and other irritants as well as in his diaper area just from pretty random rashes due to his super sensitive skin. This balm helps clear up his skin quickly. It is also nice because it can be used on even the really bad rashes with broken open skin and wont burn. I love how even when it is in solid form in the tub, I scoop out a bit on the side of my finger and as I rub it on to his rash it gently melts and protects while also healing his skin. Commercial diaper rash creams often cause discomfort for Cade, they seem to burn even if they are not supposed to. As Cade is three years old, he knows when a rash is developing and brings me this balm from off the diaper organizer and asks for a diaper change. He wont allow me to put his diaper on until I've applied some of this balm. If it wins Cade's vote, then it definitely wins this momma's vote! I have not yet used this on Ezio as he is allergic to chocolate/cocoa and I'm not really willing to chance a reaction. Plus, with how much Cade loves this stuff and I have other things to use for Ezio's rashes, I'd like to keep this stocked for a while for Cade.
Golden Calendula Oil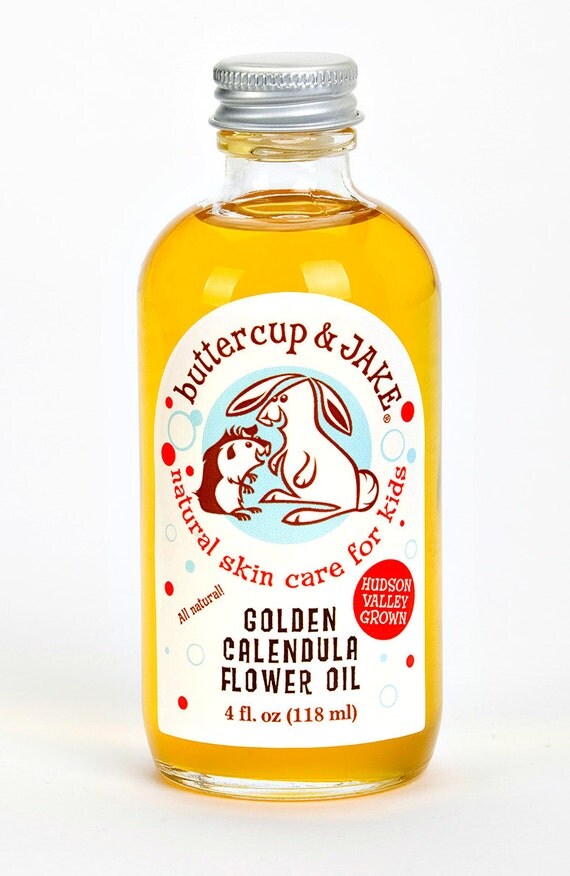 Photo belongs to: buttercup&Jake
Golden Calendula Oil is available in a 4 ounce bottle ($16.50ARV) and is made with locally grown Calendula flowers, it helps heal and sooth everyone in the family! From baby to grandma for those irritating dry and itchy spots. Would be great for dry and itchy elbows during the winter time. Calendula is a traditional treatment for skin conditions like eczema and psoriasis. This oil goes on smooth and absorbs into the skin helping to moisturize and heal the skin while leaving no oily residue behind. It is made with organic vegetable oils which are completely non-toxic and food-safe... you could put it on your salad if you really wanted to.
Ezio's eczema is worse then Cades, especially in the winter and while I was dreading the winter approaching, I am rather relaxed about it now as I've used this on some of Ezio's slight eczema dry patches right now and it truly has helped moisten and relieve the discomfort and itchiness. I really wish I had knew about this product last winter when Ezio was a baby as he had some pretty rough eczema patches on his legs and with him being a baby I wasn't too comfortable with using or trying too many different products on him, but this would have been great. This Calendula Oil is great as a massage oil, you know what that means? Baby massage after a nice warm bath just before bed, Ezio's favorite! Before I knew better, I used to use J&J baby oil on my daughter seven years ago... she doesn't have sensitive skin or eczema, but with her darker complexion she would get the "ashy" look to her skin, lotions would only last a short period of time and the oil lasted longer, but it left a horrible oily residue that was left behind in everything she touched and horrible to try and get out of clothing and bedding. So this oil not leaving that residue behind is awesome! Come this winter, I'm sure I'll need to purchase another bottle of this Calendula Oil as I plan to use it on myself, both of the boys and Jedilynn. We live in an old house and mine and Jedilynn's skin both become really dry during the winter leaving us super itchy, especially after baths and showers.
Soothing Skin Cream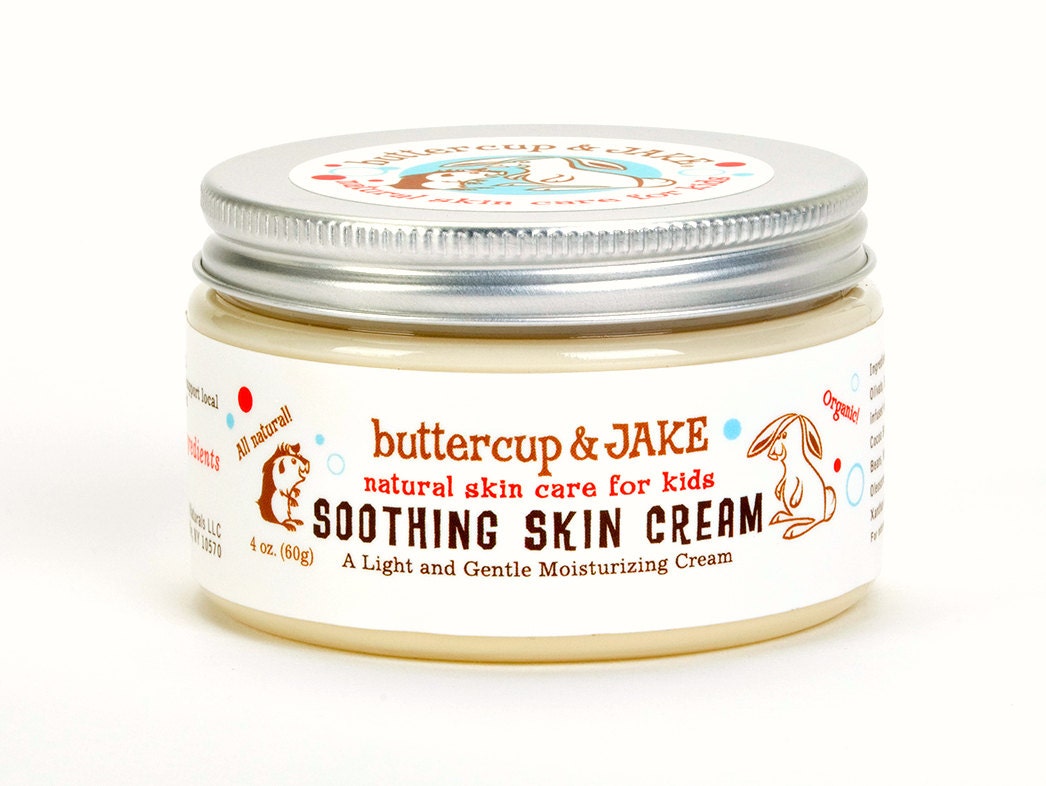 Photo belongs to buttercup&Jake
The Soothing Skin Cream is available in a 4 oz tub ($17.50ARV) and is a light and fluffy cream to gently help comfort and calm dry and itchy skin on children. It is made with Golden Calendula flowers and Honey, it is all-natural and 80% organic. This cream is also food-safe and non-toxic providing relief and comfort to your family's skin.
Since this cream does contain Cocoa Butter I have not used this on Ezio yet either. He does develop hives from chocolate touching his skin (a topical reaction), so the cream and balm make me a little nervous to try on him. However it works great on Cade and I've even used a little bit under his chin where he made it chapped by nervously and repeatedly licking his bottom lip. While the pediatrician said I could use other commercial products found in local stores, I felt much better using a chemical free, all-natural, 80% organic and food-safe product so close to his mouth and also because even after applying the cream he continued to lick. I was able to distract his from licking for a little while allowing the cream to absorb a bit into his skin. It has helped, I wish we had this when he was still sucking his thumb. He was a chronic thumb sucker causing his poor little thumb to be chapped and also seemed to weaken his thumb nail. This would have been great for his thumb. I may even use this on Jedilynn and myself come winter for our dry and itchy skin.
While Cade does have a tree nut allergy and commonly coconut oil, palm oil, and
shea butter can create a topical issue, it has not so far with these products. However, his tree nut allergy was discovered by an allergy testing and not a reaction to tree nuts so we don't know how severe it is or could be. Tree nut allergies are common in people with eczema and some of the ingredients in these above products could possibly cause itching. So, why do I use these on Cade who has a tree nut allergy, but not on Ezio who has a chocolate allergy? Ezio's allergy was discovered from him consuming chocolate. The first time he had chocolate he had an upset stomach for hours until he finally threw up all the chocolate, including everything else that was in his belly. Since then he has gotten a hold of chocolate a few times and breaks out in small none severe hives. Even if he just grabs a piece of chocolate and does not actually consume it he still breaks out in hives and little clusters of hives where any chocolate touched his skin.
Please note everyone and every allergy is different, I am not telling to not use the products nor am I telling that it will be fine to use with certain allergies. Please use your own discretion and/or consult your physician.
Connect
Etsy Shop
Website
Facebook
Twitter @ButtercupnJake
Pinterest
What do you like about Buttercup & Jake products? What product would you like to try and on who/for what?
Disclosure: I received the above products in exchange for my honest opinion, all opinions and experiences are my own and may differ from those of your own. I received no monetary compensation for this publication.